The Undergraduate Study Programme is based on the triptych:
Theory - Technology - Art

Its organisational structure, which is presented in the following diagram, comprises of three Thematic Sections:
• two horizontal ones: Theory, Technology
• a vertical one: Art

The Thematic Section of Art has three informal directions:
1. Sound
2. Image
3. Sound and Image

The two horizontal Thematic Sections contribute to the basis of knowledge, onto which the creative vertical Thematic Section of Art, covering all three directions, is built and supported.
The Theoretical Thematic Section includes courses of basic Art Theory (Philosophy and History of Art, Aesthetics and Communication Theory, and New Media Semiology), Mathematics, Cultural Management, Didactics, and Methodology.
The Technological Thematic Section includes courses concerning Contemporary Digital Technology of Audiovisual Media, with emphasis on Computer Science and its applications.
Most of the courses of the Theoretical and Technological Sections are compulsory.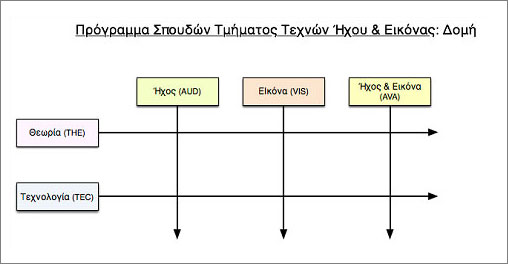 Study Programme of the Department of Audio and Visual Arts:
- Theory (THE)
- Technology (TEC)
- Audio (AUD)
- Visual (VIS)
- Audio & Visual (AVA)

The vertical Thematic Section of the Study Programme includes creative courses, such as Professional Photography, Electronic Music, Graphic Arts, Moving Image Montage, Interactive Sound and Image Systems, Installations and Audiovisual Media, Computer Art – Internet Art, 3-D Model Animation, Interactive Entertainment Systems, Animation Design and Moving Image Applications, Virtual-Augmented Reality, Multimedia Applications of Digital Art Collections. Most of the Thematic Section of Art courses are elective (especially in the last semesters). This characteristic renders the Study Programme extremely innovative, as it provides students with the potential to dynamically create a 'customised' studies specialisation, which, albeit informal, corresponds to their own particular interests and artistic pursuits.

Table 1 in Appendix A analytically illustrates the whole Study Programme per semester and per specialisation. Each course offers different TU-ECTS, depending on the load of work of each student, which is estimated on average. For each semester, the student is examined in the compulsory courses (C) of the semester and in the elective courses (O) s/he has chosen, so as to get a minimum of 30 TU-ECTS. Therefore, in order to acquire a degree (10 semesters of studies) one should have 300 TU-ECTS, which correspond on average to 7500 hours load of work.

Students, during their undergraduate studies, apart from individual and group assignments (practical and theoretical), present their work in exhibitions and events in designated venues or on the internet. Moreover, galas, the annual festival, lectures and seminars programmes constitute part of the Study Programme. In the context of these events, students get in touch with significant personalities of Art and Science. Finally, educational field trips and visits to artistic venues and institutions in Greece and abroad are also part of the Study Programme.

The teaching process is supported and complemented through the Ionian University e-class platform of asynchronous tele-education, a tool which, if one makes the most of it, can serve as a strong means of information exchange and communication among teachers and students.
Attached files of previous years: