Apostolos Loufopoulos
---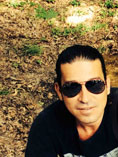 Studies/Education
Music Studies Degree, Ionian University.
Ph.D. in Music - electroacoustic composition, City University, London, Music Department.
Research Interests
Electroacoustic Music
Soundscapes - natural environment
Sound Installations
Sound Design for digital audiovisual media - immersion environments
Indicative Courses
Sound Design
Art of Sound 1
Art of Sound 2
Electronic Music
Sound Environments
Acoustics and Psychoacoustics (collaboration with A. Floros)
Interactive Audiovisual Systems (collaboration with. I. Zannos)
Academic positions
2014-today Assistant Professor, Department of Audio and Visual Arts, Ionian University
2006-2014 Scientific Associate, Department of Sound Technology and Musical Instruments, TEI of Ionian Islands
2005-2005 Laboratory Associate, Department of Popular and Traditional Music, TEI of Epirus
Professional Experience
1999-2014 Appearance in international festivals/concerts on electroacoustic music and modern Art
2002-2012 Ten international composition awards in competitions such as ARS ELECTRONICA, Bourges, Metamorphoses, Scrime, D. Dragatakis, Musica Nova, Franco Evangelisti, I. Xenakis.
2002-2014 Publication of 7 works on CD and digital releases, (Musiques & Recherches, INA-GRM, Ionian University, Touch Records), publication of 4 works in scores (Zerboni-It, Forton Music-UK.)
2006-2014 Post-doctoral researcher at National-European research projects on the natural environment, Art and environmental education.
2013-today Music producer / orchestrator (RED Productions)
1999-today Musician in concerts-shows on various musical styles.
Updated: 26-03-2022
---
Back
<<
<

May 2022

>
>>
Mo
Tu
We
Th
Fr
Sa
Su

21

22

23

30
Today
, Thursday 19-05-2022
Coming Soon