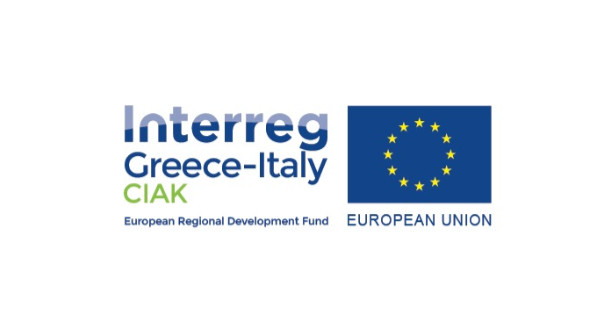 Ionian University represented by the Department of Audiovisual Arts takes part in the project "Common Initiatives to AcKnowledge and valorize tourism potential of the programme area through cinema" (CIAK). CIAK is funded by the Interreg V-A Greece-Italy Programme 2014-2020. The Department of Audiovisual Arts is responsible for organizing and delivering the planned educational activities starting in 2019, as well as theme-specific festivals.
The project, financed under Priority Axis 2 – Integrated Environmental Management- with a budget of about 900.000,00 €, aims to promote the valorisation of Apulia and Greek regions through initiatives linked to the audio-visual sector, providing an opportunity to raise awareness and improve the attractiveness of these territories and their historical and scenic beauty as a catalyst for tourism development.
Apulia Film Commission Foundation is the lead beneficiary of this project in cooperation with four Greek partners -the Region of Epirus, the Region of Ionian Islands, the Region of Western Greece and the Ionian University-Research Committee. Associated partner is the Puglia Region Department for Economy of Culture, Tourism and Valorization of Territory.
OBJECTIVE
The main overall objective is to foster the valorisation of the involved areas, by exploiting the well-known impact of images, focusing cooperation in implementing initiatives linked to audio-visual sector, providing an opportunity to raise awareness and then disseminate the image of these territories and their historical and scenic beauty to become a growth asset.
OUTPUTS
CIAK will implement a comprehensive programme of cross-border activities between the participating institutions to exchange good practices regarding the use of screen sector as a catalyst for tourism development. Among the activities:
A screenwriting international seminar articulated in 3workshops, lasting 3 weeks, alternately in stable position and itinerant that allows 15 screenwriters coming from all over the world to develop an original screenplay set in the involved regions;
The production of 10 short movies about the memory of the common story of Greece and Italy with young directors from involved regions;
Support to several Festivals in the project area focused on cinema to promote the distribution of Greek and Italian movies in each country.
Programme website: www.greece-italy.eu
Further Information: floros@ionio.gr
---
Project duration 16.04.2018 – 15.04.2020 (24 months)
Total budget € 888.796,70
ERDF funding € 755.477,20 (EU co-financing)
---
AVARTS - CIAK project: Press Release "Memory Greece Italy" - Proposals for the production of 10 short movies
A public call of interest with the purpose of producing 10 fiction short movies about the common history between Greece and Italy.
Online Submissions: avarts.ionio.gr/memory-greece-italy
Press Release Memoria CIAK 2018
Size: 200 KB :: Type: PDF file
---
See also: