Elena Hamalidi
| | |
| --- | --- |
| Field: | Art History |
| Rank: | Associate Professor |
| Government Gazette: | 557/10-03-2022, τ. Γ' |
| Telephone: | +30 2661087718 |
| Fax: | 2661087866 |
| Email: | chamalidi@ionio.gr |
---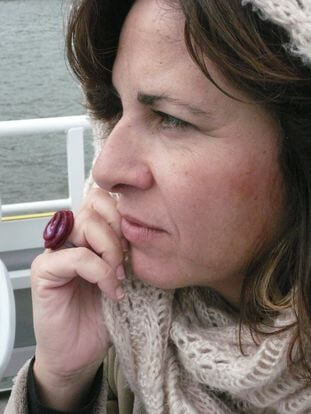 Hamalidi Elena: Curriculum Vitae
Size: 385.29 KB :: Type: PDF document
Elena Hamalidi is Associate Professor of Art History at the Department of Audio-Visual Arts of the Ionian University and an Associate Lecturer at the Hellenic Open University. She has also lectured at the University of Peloponnese, at the University of Thessaly at the Athens School of Fine Arts (Department of Art History and Theory).
She has published on Greek modern and contemporary art esp. focusing on the reception of modernism and of national identity as well as on the representation of gender in Greek women's art.
She has published a monograph on the Greek contemporary artist Niki Kanagini and has been co-editor of Contemporary Greek Artists (along with K. Koskina and E.D. Matthiopoulos, Melissa Publishing House, Athens, 2004). She is a member of the European Network for Avant-garde and Modernism Studies & member of the steering committee since 2014.
Recent Publications
Hamalidi, Elena and Stamatina Dimakopoulou (2021, Editors of the anthology of Greek texts and authors of the introduction). Towards a geopolitics of reception: responses to US art and culture in Greece (1945-1989). Hot Art, Cold War – Southern and Eastern European Writing on American Art 1945-1990. Eds. Claudia Hopkins, Iain Boyd Whyte.  Routledge, 185-220.
Hamalidi, Elena (2020). Calas and Takis: the ambivalent relation between art, science and technology (Κάλας & Τάκις: τέχνη, επιστήμη και τεχνολογία, μια σχέση αμφίθυμη). Σύγχρονα Θέματα, τχ. 147-148, 97-105.
Hamalidi, Elena (2019). Leonidas Christakis the Painter and Gallerist (Ο Λεωνίδας Χρηστάκης ως Ζωγράφος και Γκαλερίστας). Versatile Leonidas Christakis (Ο Πολυπράγμονας Λεωνίδας Χρηστάκης). Επιμ. Νίκος Σούζας και Χρίστος Μάης. Αθήνα: Εκδόσεις των Συναδέλφων, 51-81.
Hamalidi, Elena (2015). The Avant-garde Claim for the "Fusion of Art and Life" in Greek Contemporary Art during the Period 1960-1980 (Το Πρωτοποριακό Αίτημα της «Ένωσης Τέχνης και Ζωής» στην Ελληνική Σύγχρονη Τέχνη κατά την Περίοδο 1960 1980). Metapolitefsi: Greece on the verge of two centuries (Μεταπολίτευση: η Ελλάδα στο μεταίχμιο δύο αιώνων). Eds. M. Avgeridis, Ε. Gazi, Κ. Kornetis. Athens, Themelio, 295-313.
Updated: 20-09-2022
---
Back
<<
<

September 2022

>
>>
Mo
Tu
We
Th
Fr
Sa
Su

25

26