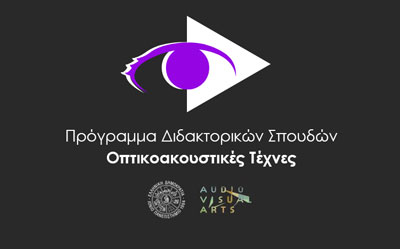 The Department of Audio & Visual Arts of the Ionian University offers a Doctoral Studies Programme whose main constituent component is independent academic research which makes an original contribution to knowledge and culminates in a written up dissertation. The Programme offers specialization in the main disciplines of study in the Department, in particular the creative interaction between artistic expression and the development of leading-edge technology required to support it, as follows:
Artistic creation employing digital methods and techniques
Development of digital audiovisual technologies promoting, fostering and exploiting synergies between Art and Science
Theoretical research in New Media Arts
Acceptance to the Programme requires compliance with the national legislative framework (in particular Law 3685/2008). Interested parties are invited to submit to the Registrar of the Department a signed application form which should include a proposed dissertation title as well as the name of a member of the teaching staff suggested as supervisor. The application should be accompanied by the following supporting material:
PhD Dissertation proposal plan, in both printed and electronic media, including the following: main research topic, objectives, presentation and critical analysis of the State-of-the-Art (including a comprehensive list of bibliographical references), intended methodology, expected deliverables and results and schedule of activities.
Comprehensive Curriculum Vitae (in both printed and electronic media)
Certified copies of academic transcripts and degrees. For degrees obtained abroad state certification of equivalence (DOATAP) is required.
2 letters of recommendation.
Copies of scientific publications
For Greek candidates foreign language certificate at level CEFR B2.
For more information, interested individuals may contact the departmental secretariat (tel.: 26610 87860-1) or directly a member of teaching staff with a relevant research profile of interests.
Steering Committee of the Doctoral Studies Programme:
Associate Professor Michail Panagopoulos (Head of the Committee and Director of the Programme)
Professor Andreas Giannakoulopoulos, member
Associate Professor Theodoros Vlachos, member
Associate Professor Elena Hamalidi, member
Assistant Professor Angeliki Malakasioti, member