Bill Psarras
---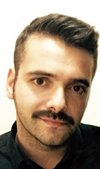 Psarras Bill: Curriculum Vitae
Size: 272.63 KB :: Type: PDF document
Committee
Supervisor: Dalila Honorato (Assistant Prof.)
Status: Successfully completed (April 2017- April 2019)
Scholarship award: IKY: State Scholarships Foundation | Operational Programme «Human Resources Development, Education and Lifelong Learning»
Postdoctoral research abstract
During last decades, the wider 'spatial turn' and 'mobile turn' in the arts and humanities; the globalized and technologically augmented experience of public space; issues of territorial boundaries and mobily; as well as the ongoing interest for anthropocentric approaches which highlight the lived, sensory and emotional experience; have all set the foundations for ambulatory reconceptualizations of place, human and culture. Based on this, there has been an emergence of a new interdisciplinary and transmedia field often encountered as GeoHumanities. The impact of walking into either urban or rural settings has been also significant for a number of intellectual, artistic and theoretical voices across different eras and fields, as it constituted an aesthetic process, a methodological framework or even a performative act through a number of expressive media.
The core aim of the current postdoctoral research is the exploration of the interdisciplinary and intermedia impact of walking performance to GeoHumanities. Having author's previous art practice and research as starting platform, this PostDoc aims to creative conceptual and artistic links between such fields; by taking into consideration the previously expressed interest of GeoHumanities field for site-specific arts, performance and creative technologies. Therefore, the current research explores the sensory, performative and audiovisual impact of conceptual walking performance into site, having selected objects as methodological apparatus and co-producers of the in-situ action towards further participatory and poetic considerations of place. The core inventive methodology of this PostDoc is influenced by wider Qualitative approach (QL) and Arts-based Research (AbR). In particular, thesis is articulated through a constellation of methods: autoethnography, walking performance, audiovisual/interactive media, semi-structured interviews αnd transmediality.
Thus, the current PostDoc can be described as a dynamic interrelation between art practice and critical research. More specifically, it led and was also led by a series of artworks (Light Walks, We Are All Cities: Electricities, IANUS) in the intersections of performance, audiovisual arts/technology, semiotics and site-specific arts. Further outputs included a series of interviews (A Meeting of Objects) with invited artists and academics of the field, highlighting the potential of objects as part of the art practice. To conclude, the current postdoctoral arts-based research offers new and transmedia insights on the fruitful intersections of contemporary performance art, geographical imagination and creative technologies.
---
Studies / Education
2017-19: Post Doc in Arts and GeoHumanities, Ionian University
2015: Ph.D in Arts & Computational Technology, Goldsmiths University of London
2010: Master in Digital Arts, University of the Arts London
2009: Bachelor in AudioVisual Arts & Sciences, Ionian University
Research Interests
Video Art, Audiovisual Installations, Installation Art, Digital Art
Psychogeography, Senses and Site-Specific Performance
Contemporary Art and City
Emotional Geographies / Theories of Space and Place
Indicative Courses
Research Methodology in Arts (2018-2019)
Multimedia Semiotics Ι (2018-2019)
Communication Theory (2018-2019)
Installations and Audiovisual Media (2015-2016)
Space and Human Figure (2015-2016 / 2016-2017)
Space and Audiovisual Media (2016-2017 / 2017-2018)
Exhibitions
His artworks are often audiovisual installations, video art, digital art, walking performances, poetry and music composition. They have been exhibited in more than 60 exhibitions in various international festivals (Europe, US, Australia), group exhibitions (Onassis Cultural Foundation, ROOMS2013, MOVEWITH(OUT), WPA Experimental Media) and cultural institutions (Royal Academy Summer Exhibition, Goethe Institute Art Up, Storefront of Art & Architecture New York). During 2017, his first poetry collection entitled 'Tundra' will be published by iWrite Publications.
Conferences / Publications
His research has been presented in international journals, conferences (i.e. ISEA2013, Leonardo Electronic Almanac MIT Press, Emotional Geographies, Hybrid City, NECS, AES), symposia and articles in the intersections of contemporary art, media arts, geohumanities and urban studies.
Selected Awards/Distinctions
2017: Post-Doctoral Researcher with Scholarship from IKY Foundation (GR)
2017: 'Tundra' poetry collection publication, iWrite Publications (GR)
2014: Invited Keynote speaker – University of Chichester (UK)
2013: Invited artwork commission, Onassis Cultural Foundation (GR)
2013: AHRC Scholarship [1 year] for Doctoral studies (UK)
2013: 1st Prize of Exp. Video – Cinematique UK Student Film Fest (UK)
2012: Invited artist for Goethe Institute Art Up Media Arts project (GR)
2010: Selected artwork for Summer Exhibition – Royal Academy of Arts (UK)
Updated: 27-03-2022
---
Back
<<
<

October 2022

>
>>
Mo
Tu
We
Th
Fr
Sa
Su

16

17

18

19

20

21

22

23

24

25

26

27

28

29

30

31
Today
, Thursday 06-10-2022
Coming Soon