Audiovisual Arts Festival
13 - 21 May 2021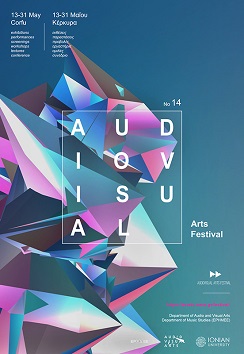 The 14th Audiovisual Arts Festival, after a year of absence due to emergency measures implemented by the state in order to limit the spread of Covid-19, is co-organized once again by the two departments of the Ionian University's Faculty of Music and Audiovisual Arts: the Audio & Visual Arts Department and the Department of Music Studies (Electroacoustic Music Research and Applications Laboratory - ΕΡΗΜΕΕ).

The program of the Audiovisual Arts Festival covers a wide range of artistic, educational and scientific events. By investing traditionally in extroversion, the 14th Festival has collaborated with the Institute of Audiovisual Arts of the University Research Center 'TEMENUS' of the University of Western Macedonia, the Lifelong Learning Center of the Ionian University, the Athens Digital Arts Festival, the Hellenic Electroacoustic Music Composers Association (HELMCA), with cultural organizations in the city of Corfu, such as Municipal Regional Theatre of Corfu, the Photography Club of Corfu (Photoleke Club) and the Social Protection Committee of the Regional Scouting Service of Corfu.

It invites distinguished Art personalities from the field of Performing Arts, Mary Zygouri, Filippos Tsitsopoulos and Michalis Mitrou. At the same time, it is also open to international institutions abroad by hosting this year's artistic activity of the European Art - Science Technology Network.

The following curators undertook the organization of events (in alphabetical order): Maria Chalkou, Angelos Floros, Andreas Giannakoulopoulos, Alexandra Kalaitzoglou, Nikos Kokkalis, Vassilis Komianos, Apostolos Loufopoulos, Theodoros Lotis, Angeliki Malakasioti, Andreas Mniestris, Konstantinos Tiligadis, Fotis Raftopoulos, Tania Tsiridou, Thomas Valianatos, Spyridon Verykios, Yiorgos Vlachopoulos, Ioannis Zannos.
See also: