Audiovisual Arts Festival
May 20th - June 11th, 2017, Corfu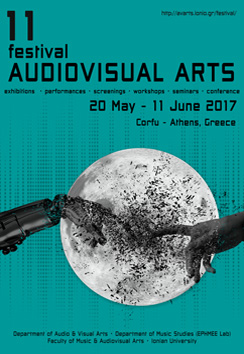 The 11th Audiovisual Arts Festival 2017 expands in time and space. Artistic, scientific and educational activities will take place from May 20 to June 11, 2017. Moreover, alongside the artistic events in Corfu, for the first time since the foundation of the Department , a retrospective digital exhibition will be held from 20 to May 21, 2017 on the premises of the Athens Concert Hall, which will present selected works of students of the Department of Audio and Visual Arts of the Ionian University.

The 11th Audiovisual Arts Festival schedule further includes a) the organization of the 2nd scientific conference entitled "TABOO - TRANSGRESSION - TRANSCENDENCE in Art &Science", which will be held from 26 to 28 May 2017 in Corfu, as a continuation of the highly corresponding last year's successful conference and b) the organization of an international summer school on hybrid arts from 29/5 to 11/6/2017, which will take place in two periods of one week each (29/5-4/6 the first and 5/6-11/6 the second). The artistic activities of the student work's presentation will take place in Corfu from 25 to 31 May 2017.
The Audio & Visual Arts Department will present its course retrospectively in a digital art show which will be held at the Athens Concert Hall (Megaron) 20 to May 21, 2017. The show will include selected works of graduate, postgraduate students, Phd students and professors, and works by internationally renowned artists, such as Eija-Liisa Ahtila, Barry Purves and Theodore Ushev. The Electroacoustic Music Research and Applications Laboratory (ΕΡΗΜΕΕ) of the Department of Music Studies will organise electroacoustic music concerts in the framework of the festival like every year. Alongside with the exhibition and the concerts, there will take place workshops and a masterclass and lectures programme under the title, Art and Digital Culture, with the participation of prominent guests and with a focus on the media of video art and animation. The two-day event is a joint production of the Audio-Visual Arts Department and the Athens Concert Hall (Megaron Bridges cycle).

The Corfu Summer School in Hybrid Arts will begin in May 29th, 2017, integrating both Greek mythological inspiration connected with the Ionian Islands and the (almost) unlimited possibilities of new media. It will take place in the Greek island of Corfu and will run for two weeks, divided in two cycles. Applicants can submit their registration to one or both cycles. Each cycle has a duration of one week, the first starting on May 29th, 2017 and the second on June 5th, 2017. The courses offered are theoretical and practical and the program also includes seminars from guest speakers in several locations connected with the thematic of the summer school. All courses and seminars are taught in English. Application for all individual participants is made online until May 28th 2017 at: https://avarts.ionio.gr/summer/2017/registration/.
See also:
Related websites
Venues:
Ionian Academy
Politechno
Municipal Gallery of Corfu
Ionian Parliament
Conference Hall, Faliraki
Athens Concert Hall (Megaron)
Department of Informatics, Ionian University
Department of Audio and Visual Arts, Ionian University
Department of Music Studies, Ionian University