Interdisciplinary Conference
TABOO - TRANSGRESSION - TRANSCENDENCE
in Art & Science
20-22 May 2016, Ionian University, Corfu Greece
Stelarc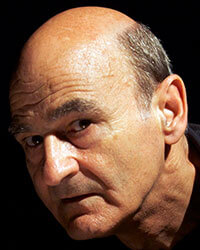 Curtin University, Australia
Stelarc is a performance artist who has visually probed and acoustically amplified his body. He has made three films of the inside of his body. Between 1976-1988 he completed 26 body suspension performances with hooks into the skin. He has used medical instruments, prosthetics, robotics, Virtual Reality systems, the Internet and biotechnology to engineer intimate and involuntary interfaces with the body. He explores Alternate Anatomical Architectures with augmented and extended body constructs.

He has performed with a THIRD HAND, an EXTENDED ARM, a VIRTUAL ARM, a STOMACH SCULPTUREand EXOSKELETON, a 6-legged walking robot. His FRACTAL FLESH, PING BODY and PARASITE performances explored involuntary, remote and internet choreography of the body with electrical stimulation of the muscles. His PROSTHETIC HEAD is an embodied conversational agent that speaks to the person who interrogates it. He is surgically constructing an EXTRA EAR on his arm that will be internet enabled, making it a publicly accessible acoustical organ for people in other places. He is presently performing as his avatar from his SECOND LIFE site.
In 1995 Stelarc received a three year Fellowship from The Visual Arts/Craft Board, The Australia Council and in 2004 was awarded a two year New Media Arts Fellowship. In 1997 he was appointed Honorary Professor of Art and Robotics at Carnegie Mellon University, Pittsburgh. He was Artist-In-Residence for Hamburg City in 1997. In 2000 he was awarded an Honorary Degree of Laws by Monash University. He has completed Visiting Artist positions in Art and Technology, at the Faculty of Art and Design at Ohio State University in Columbus in 2002, 2003 & 2004. He has been Principal Research Fellow in the Performance Arts Digital Research Unit and a Visiting Professor at The Nottingham Trent University, UK. Between 2006 and 2011 he was Senior Research Fellow and Visiting Artist at the MARCS Lab, University of Western Sydney, Australia. He is currently Chair in Performance Art, School of Arts, Brunel University, Uxbridge, UK. In 2010 he has received a special projects grant from the Australia Council and was also awarded the Prix Ars Electronica Hybrid Arts Prize. In 2012 he was the recipient of the Michael Cook Performance and Body Artist Award. In 2014 he intiated and was director of the Alternate Anatomies Lab for two years.
In 2015 he received the Australia Council's Emerging and Experimental Arts Award. He is presently a Distinguished Research Fellow in the School of Design and Art, Curtin University. Stelarc's artwork is represented by the SCOTT LIVESEY GALLERIES in Melbourne.

Personal Website
---
ZOMBIES, CYBORGS & CHIMERAS: CREEPY, UNCANNY & CONTESTABLE BODIES

Abstract
In this age of body hacking, gene mapping, prosthetic augmentation, organ swapping, face transplants, gender reassignments, AI and AL, what it means to be other and what generates aliveness and affect becomes problematic. This is a time of Circulating Flesh, Fractal Flesh and Phantom Flesh. A time of extreme absence and alien experience. Of bodies performing in remote spaces with split physiologies and multiple agencies, where bodies are simultaneously possessed and performing. Being neither one nor the other, being neither here nor there, but partly present and mostly absent. Subjectively, the body now experiences itself as a more extruded system, rather than an enclosed structure. The self becomes situated beyond the skin. It is partly through this extrusion that the body becomes empty. But this radical emptiness is not through a lack but rather through excess. Bodies are profoundly obsolete. Bodies are inadequate, empty, involuntary, and absent to their agency. We are living in an age of excess and indifference. Of prosthetic augmentation and extended operational systems. An age of Organs Without Bodies, of organs awaiting bodies. Cadavers can be preserved forever with plastination and comatose bodies can be sustained indefinitely on life-support systems, whilst cryogenically suspended bodies await reanimation at some imagined future. The dead, the near-dead, the un-dead and the yet to be born now exist simultaneously. This is an age of the Cadaver, the Comatose and the Chimera. Of Zombies, Cyborgs, Hybrids and Humanoids. The creepy and the uncanny proliferate. The body has become contemporary chimera of meat, metal and code.


Abstract & brief biographical notes
Size: 170.49 KB :: Type: PDF document
Activities
STELARC ALTERNATE ANATOMIES
---
Back