Interdisciplinary Conference
TABOO - TRANSGRESSION - TRANSCENDENCE
in Art & Science
26-28 May 2017, Ionian University, Corfu Greece
LOCATION
Venues:
The Conference will be held in the Ionian Academy of the Ionian University, 1, Kapodistriou str., Corfu (Greece).
The Exhibitions will be held in the Ionian Parliament and the Municipal Gallery of Corfu.

Artworks exhibition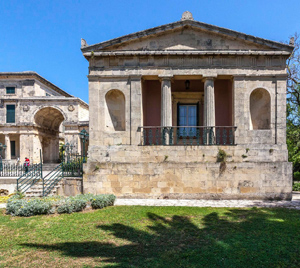 Municipal Gallery of Corfu, Old Palace / Palaia Anaktora (St. Michael and St. George)
It reopened in 1995 in the palace of Saint Michael and Saint George, core of the Historical museum of the city and of the entire island of Corfu. The biggest part of the collection of the Gallery includes works of Corfiot painters of the 19th century. The palace of Saint Michael and Saint George, where the Gallery along with the Museum of Asian Art are housed, was a work of the years 1819-1924. It consist an important monument of the period of the British occupation. It is one of the first buildings of neoclassical style in Greece.

Posters Exhibition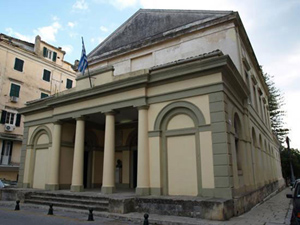 Ionian Parliament, Moustoxidi str. (Plati Kantouni)
The will of the people of the Ionian Islands for their unification with Greece was developed and expressed in the Ionian Parliament. The unification with Greece was validated with a resolution of the Ionian Parliament on 23 September 1863. The building was designed by Ioannis Chronis and it was constructed in 1855. It is a neoclassical building with Doric columns that decorate its typical entrance. It was restored in 1978 and since then, it constitutes the seat of the Museum dedicated to the fight for freedom of the Ionian Islands.

Conference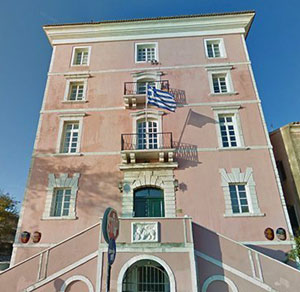 Ionian Academy, 1, Kapodistriou str. The Academy, the higher education institution, of the United States of the Ionian Islands was established in Corfu in 1824, thanks to the generosity of the English philhellene Frederic North, earl of Guilford, and to the initiative of the Ionian State. It has been the first University in the history of Modern Greek education. It comprised four schools: Law, Theology, Medicine and Philosophy (courses of natural sciences and mathematics were also taught). Later, the technology institution, the school of obstetrics and the school of pharmacy were established. From the beginning of the 19th century and until the union of the Ionian Islands with modern Greece in 1864, when the Academy closed, a notable literary movement has begun. This movement contributed a lot in the spiritual enlightenment of the modern Greeks. Half a century later, it was rebuilt for the needs of the Ionian University and it operates this way until today.
---
Corfu - Travel Information
Apart from being home to the Ionian University, Corfu is a popular travelling destination, as it is renowned, among other things, for the beauty of its landscape and for its style of architecture which is unique among Greek islands. This means that Corfu is easily accessible and in a variety of ways.
Flights to Corfu from Athens are scheduled several times a day. There are also flights from other airports, both in Greece and from several destinations abroad, on a regular basis. Another way to reach Corfu is by ferry, from Igoumenitsa (if you're travelling from the Greek mainland), or from Italian ports such as Brindisi, Bari, Ancona or Venice. These ferries are also used for carrying cars.
If you bring your own car or rent one while in Greece, you should keep in mind that E.U. Member-State citizens may use their own national driving license. Travelers from other countries, should have an international driving license along with their own valid national driving license.
Along with private vehicles, one can use the intercity buses system (KTEL). There are two scheduled KTEL bus routes from
Athens to Corfu
(and vice versa). You can also hire a taxi to get you to Corfu, even though this solution might prove a costly one.
Once you've reached the island, you can use its
netwok of city buses
, its
intercity buses
, or you can rent a car. There are also many taxis available. Please note that most of the sights within Corfu's old city are in walking distance from each other, but if you want to visit places outside the city, you will need some sort of transportation. There are also small ferries and boats that can take you to nearby destinations such as the islands of Paxos, Antipaxos, Vido or the islet of Lazaretto.
Our partner Synodos Management Group SA will be glad to help you organizing your trip. Email contact:
tdiavatis@synodosgroup.com
or
tdiavatis@synodosgroup.com
. Concerning rent a car, please have in mind that Synodos is offering for all the conference participants the special daily rate of 25 euros per car, insurance to third parties included
(for no-fault insurance 15 euros extra per day)
.
---