Interdisciplinary Conference
TABOO - TRANSGRESSION - TRANSCENDENCE
in Art & Science
26-28 November 2020, University of Applied Arts Vienna, Austria
Cheang Shu Lea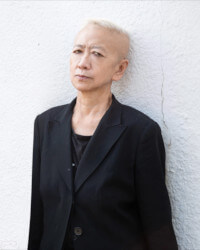 As an artist, filmmaker, and networker, Shu Lea Cheang has worked with various art mediums and film formats, including installation, performance, net art, public art, video installation, feature length film, and mobile web serial. Her work in its imagination and desire to redefine the gender, race, and control mechanism seeks to transcend the boundaries imposed on the social, geographical, political, and economic system. She often drafts sci-fi narratives in her film scenario and artwork imagination, crafting her own [science] fiction genre of new queer cinema.
As a net art pioneer, BRANDON (commissioned and collected by the Guggenheim Museum New York), a one-year (1998–1999) narrative project in installments on gender fusion and techno body, takes place on the web and at Theatrum Anatomicum (Waag Society, Amsterdam). The "Locker Baby" project (2001–2012) in threeparts —Baby Play (2001, NTT[ICC], Tokyo), Baby Love (2005, Palais de Tokyo, Paris), and Baby Work (2012, Zero1 Biennale San Jose) —entrusts human memory and emotion (ME) data to transgenic, engineered clone babies for future retrieval through interactive installations.3×3×6 (2019, Venice Biennale), an immersive, multidimensional mixed media installation with an inverted panopticon structure, investigates tencriminal cases in which the prisoners across time and space are incarcerated for sexual provocation and gender affirmation. In its employment of the contemporary technologies of communication and surveillance the work constructs a multi-thread trans-punk-fiction scenario and reconfigures the algorithm of gender andsexuality in the digital age. As a filmmaker, Shu Lea Cheanghas made threefeature films: FRESH KILL (1994), an eco-cybernoia fiction, envisions a post-apocalyptic landscape strewn with electronic detritus and suffering the toxic repercussions of mass marketing in a high-tech commodity culture. I.K.U. (2000), a cyberpunk sci-fi feature, dispatches replicants to seek human sexual interaction. FLUIDØ (2017), a cypherpunk sci-fi feature, recalls the AIDS/HIV epidemic in the 1980s and drafts a plot of virus, sex, hack, drug, and conspiracy. As a networker, she has co-founded several cross-disciplinary collectives to pursue ongoing trans-border networked projects.
TAKE2030 (founded since 2003) is a new media society, which operates in parallel net media scheme and shifts the social media mission into hypermedia playing fields. In 2017, with STWST (Linz, Austria) and cycleX (Andes, New York), she started Mycelium Network Society, an underground network imagination situated in a post-Internet mudland and powered by fungus, spores, culture, kitchen, radio, transmission, installations, workshops, and performances. From homesteading cyberspace in the 1990s to her current retreat into a post-netcrash BioNet zone, her current cycle of work focuses on viral love and bio hack. In development are UNBORN0x9 (a hacking performance), which investigates(un)motherhood with a fabricated future phantom baby, artificial wombs, and converted ultrasound data derived from echostethoscope apparatus. UKI (an interruptive cinema) is situated in a post-netcrash electronic trashscape i n which viral forces are born to reclaim human bodies. The two projects in development have both received funding from DICRéAM, CNC (Centre National du Cinéma) in France.
http://www.mauvaiscontact.info
---
Photo credit: Shu Lea Cheang, image courtesy of Taipei Fine Arts Museum.
---
Back