SPIRALS by PartSuspended (Part C): Poetry in Action | Drifting in the City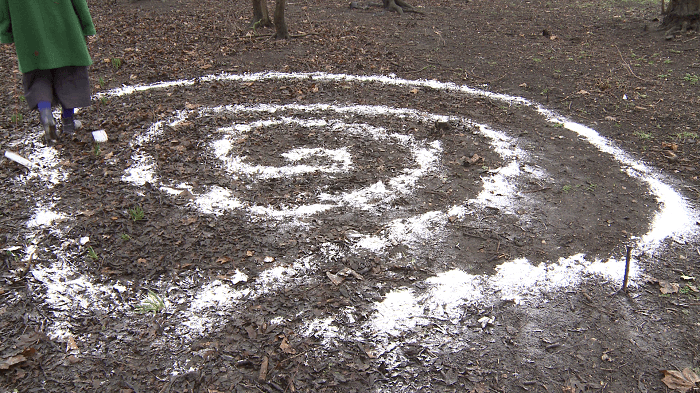 Date and Time:
17/05/2022 (16:00-20:00 EEST)
Location:
Jasmine Cafe Bar
SPIRALS (2013-ongoing) is an ongoing collaborative and interdisciplinary project created by PartSuspended artist collective (https://www.partsuspended.com/). SPIRALS is a poetic journey that crosses geographical borders and unites women's voices in an exchange of languages, cultures, personal narratives and modes of expression. SPIRALS interventions have taken place in a variety of countries, such as UK (London, Broadstairs, Coventry, Devon) Spain (Barcelona, Agost), Serbia (Belgrade), Greece (Athens), India (Puma). The spiral acts as a sign of becoming, transforming and awareness. Workshops led by: Dr Barbara Bridger, Dr Noelia Díaz-Vicedo, Dr Sarahleigh Castelyn, Georgia Kalogeropoulou, Dr Hari Marini | Curated by Hari Marini. For further information about the project, publications, performances, workshops and exhibitions please visit: http://www.partsuspended.com/productions/current/spirals/
V-PartSuspended: Poetry in Action (hybrid format, online and in-person) / Dr Noèlia Díaz Vicedo and Dr Hari Marini
What does a poem "say", then?
What does it communicate?
(Walter Benjamin 'The Translator's Task', 1923)
The workshop explores the artistic consequences of the current pandemic situation and how embodied translation and action shall allow participants to go beyond the written word and expand the limits of artistic expression. The burst of Covid-19 forced us to go into isolation and the sense of uncertainty consequently surrounded us. Boundaries between private and public spaces have been challenged. The situation in arts and creative collaborations are in jeopardy. How can poetry in action provide us with a sense of belonging, sharing and crossing boundaries? In this workshop we aim at exploring poetic translation as a form of action by using poems in Catalan, Spanish and Greek (available also in English) about isolation and non-belonging. Taking those poems as a source the participants will have the chance to work with movements, voice, words, drawings and sounds, then perform the poem in any form they want to end our process into the creation of a poem in action.
Dr Noèlia Díaz Vicedo and Dr Hari Marini are members of EXPERIENTIAL TRANSLATION NETWORK: Meaning-making Across Languages and the Arts (ETN - for further details please visit: https://experientialtranslation.net/). The workshop is part of creative workshops run by Dr Noèlia Díaz Vicedo and Dr Hari Marini, the results of which will be presented to the Conference entitled "Performative & Experiential Translation: Meaning-Making through Language, Art and Media", King's College London, 13-15 July 2022.

Requirements: Participants are invited to wear comfortable clothes and walking shoes, and to bring a pen, a notebook and a water bottle.
VΙ- PartSuspended: Drifting in the City / Dr Hari Marini
In this workshop we explore how the city's net becomes a source for creative action. Urban space is gendered and connected with power, embedded ideologies, rules and regulated patterns, however, opportunities for new possibilities of thought and creative action can be discovered through walking and performative interventions. How can we view space as a tool for creative action? In what way can performance and walking make us re-think the way that space is produced? Within the C-19 pandemic our relationship with the built environment and public space has shifted whilst we re-evaluated our experience of walking.
We will practically explore how the dérive can be re-visited and re-shaped within the contemporary city and how this can be reflected on artistic creation. The participants will have the chance to experience a spiralling route within the city, its layers of history, its architectural elements, its local stories and create short performance gestures inspired by their spiralling walk.

Requirements: Participants are invited to bring with them / wear an item with their favourite colour.
PartSuspended artist collective works in a variety of art forms and disciplines. In 2006, Hari Marini co-founded PartSuspended as a dynamic platform on which to foster performances, live art, installations, writing and collaborations with artists from a variety of disciplines. The collective creates artistic work starting from personal experiences, everyday life, social space and architecture. They draw on contemporary life for their material: questions, pleasure, anger, fractures, contradictions; they explore these with the audience. PartSuspended has presented their work to a variety of venues such as DAN24, Spatial Culture Festival, BAZA (Novi Sad); Prague Quadrennial of Performance Design and Space (Prague); BIOS Tesla; National Theatre of Greece – Experimental Stage; Camden People's Theatre (London); Peopling the Palace(s) Festival QMUL (London); Arcola Theatre (London); Southwark Playhouse (London); Emergency 2013 (Manchester); Siobhan Davies Dance Studio; ]performance space[; ZealousX (Bargehouse, Oxo Tower Wharf); Railway Carriage Theatre (Athens); DVM Theatre (London); NoGrayInMyDay Gallery (London); You & Your Work (Bristol). Contact: PartSuspended, Hari Marini perform@partsuspended.com
Language of instruction: Greek, English, Spanish (translation from English to Greek)
Organized by: Hari Marini
Workshops' Instructors
Noèlia Diaz-Vicedo
Hari Marini
---
Back to workshops