SPIRALS by PartSuspended (Part A): Performance Writing | Mapping the Body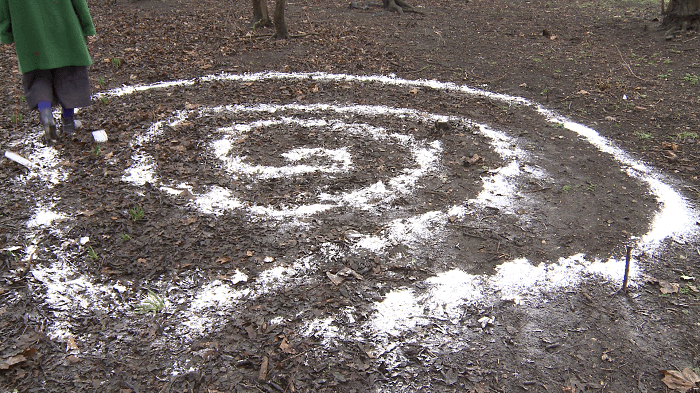 Date and Time:
15/05/2022 (16:00-20:00 EEST)
SPIRALS (2013-ongoing) is an ongoing collaborative and interdisciplinary project created by PartSuspended artist collective (https://www.partsuspended.com/). SPIRALS is a poetic journey that crosses geographical borders and unites women's voices in an exchange of languages, cultures, personal narratives and modes of expression. SPIRALS interventions have taken place in a variety of countries, such as UK (London, Broadstairs, Coventry, Devon) Spain (Barcelona, Agost), Serbia (Belgrade), Greece (Athens), India (Puma). The spiral acts as a sign of becoming, transforming and awareness. Workshops led by: Dr Barbara Bridger, Dr Noelia Díaz-Vicedo, Dr Sarahleigh Castelyn, Georgia Kalogeropoulou, Dr Hari Marini | Curated by Hari Marini. For further information about the project, publications, performances, workshops and exhibitions please visit: http://www.partsuspended.com/productions/current/spirals/
I - PartSuspended: Performance Writing / Dr Barbara Bridger
The workshop will begin with a showing of various examples of Performance Writing and a discussion of the theory and practice of Performance Writing.  Each member of the workshop will then be asked to compose a phrase that reflects in some way on the notion of spirals. They will then work with this phrase and its elements using Performance Writing methodologies.  These include using different materials to write with, writing on non-page-based surfaces and in a range of different contexts.  The workshop will end with a showing and critical response to the work produced.

Requirements: Please bring a notebook, a large sketchbook and a range of writing and drawing materials.   
II - PartSuspended: Mapping the Body / Dr Sarahleigh Castelyn
ln this workshop we explore how choreography is a form of mapping the body in time and space. We focus on the pathways that our dancing bodies make and how they shape the space around them – close and far. Our bodies moving – or not – shape the movement of other bodies in space and time – near and far. In the Mapping the Body workshop we will move between the exterior and interior of the body and play with choreography as a form of mapping in motion the spirals in our bodies and beyond.

Requirements: Please dress in clothing that you can comfortably move in. Please bring a notebook and a pen and a water bottle.
PartSuspended artist collective works in a variety of art forms and disciplines. In 2006, Hari Marini co-founded PartSuspended as a dynamic platform on which to foster performances, live art, installations, writing and collaborations with artists from a variety of disciplines. The collective creates artistic work starting from personal experiences, everyday life, social space and architecture. They draw on contemporary life for their material: questions, pleasure, anger, fractures, contradictions; they explore these with the audience. PartSuspended has presented their work to a variety of venues such as DAN24, Spatial Culture Festival, BAZA (Novi Sad); Prague Quadrennial of Performance Design and Space (Prague); BIOS Tesla; National Theatre of Greece – Experimental Stage; Camden People's Theatre (London); Peopling the Palace(s) Festival QMUL (London); Arcola Theatre (London); Southwark Playhouse (London); Emergency 2013 (Manchester); Siobhan Davies Dance Studio; ]performance space[; ZealousX (Bargehouse, Oxo Tower Wharf); Railway Carriage Theatre (Athens); DVM Theatre (London); NoGrayInMyDay Gallery (London); You & Your Work (Bristol). Contact: PartSuspended, Hari Marini perform@partsuspended.com
Language of instruction: English (translation from English to Greek)
Organized by: Hari Marini
Workshops' Instructors
Barbara Bridger
Sarahleigh Castelyn
---
Back to workshops