Interdisciplinary Conference
TABOO - TRANSGRESSION - TRANSCENDENCE
in Art & Science
11-13 November 2018, UNAM and CCD, Mexico
EVENTS
Title: Espacios de Especies
Date & Time: Opening Saturday November 10th, 2018 at 12:00
Location: Centro de Cultura Digital
Curated by: Mariantonia González Valerio
---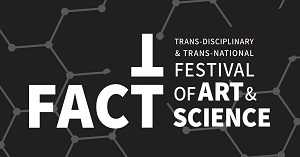 The conference is organized in collaboration with FACTT Mexico 2018 by
Arte Institute
and
Cultivamos Cultura
within
Festival N
by
UNAM
and
Bioscenica
. The festival opening is on November 10th at 12:00 with the inauguration of its exhibition Espacios de Especies at the Centro de Cultura Digital.
The works presented in the Espacios de Especies exhibition question the categories of adaptation, variation and speciation based on the relationship of reciprocity between living organisms and the environment. These same themes are being debated in contemporary biology, which opposes the gencentric paradigm and opts for an epigenetic perspective.
The causal reciprocity between organism(s) and environment(s) and the idea that the structural/functional details of the organism are not completely codified in the genome is explored from a point of view that considers space -understood in a broad sense- as a fundamental factor of interaction and continuous formation. The exhibition will take place at the Centro de Cultura Digital from the 10 of November to the 15 of February and is curated by
Mariantonia González Valerio
.
Artists
:
Brandon Ballengée –
Les enfants perdus
/ Andy Gracie –
Drosophila Titanus
/ Bios ex Machina –
Instrucciones para construir una especie
/ Jaime Lobato –
Reticular Nix
/ Kathy High –
Gut Project
/ Lena Ortega –
Entornos en el Aire
/ Marta de Menezes –
Anti Marta
/ Minerva Hernández Trejo, Abigail Jara, Alberto Cerro, Héctor Ugalde, Irasema Serrano, Alejandro Ortiz & Ary Ehrenberg –
Empatía 5.0
/
D.H.
Plataforma Bioscénica / Robertina Šebjanič –
Lygophilia
/ Victoria Vesna -
Bird Song Diamond
/ Maria Francisca Abreu Afonso –
Identity
/ Jude Abu Zaineh –
Envolving patterns
/ Alan Tod –
Global Forst
/ Maria Manuela Lopes & Paulo Bernardino Bastos -
Metaphorical Evolution
---